I've set Rebecca's sweater and sleeves aside until I have the space to give it more thought – hopefully this weekend when we're going to be at the farm and have the inlaws around.  Instead I've embarked on another project that I've been meaning to get to for a while.  I've wanted a set of rooting jars to hang up in front of the window.  My sister has a model similar to this one from Vermont Nature Creations.  I'd intended to purchase one like it for a while, but always seem to have something better to spend my money on.  Meanwhile I don't have anything to root my plants in that my cats can't get to.
Well, that's a lie. I have some winebottles held in socks that are hanging from a curtain rod, but they aren't very sightly.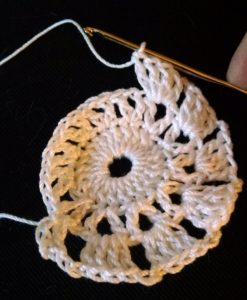 So this weekend I've gotten busy with some crochet.
I started with a magic circle, size three crochet thread and a steel crochet hook (don't ask me the size) and worked like this:
Round 1: 24 dc.
Round 2: V-stitch in every other stitch, 12 V stitches.
Round 3: 3 double crochets in each V stitch, with a chain in between each grouping.
Round 4, 5 and 6: Let's rock the granny square pattern!
Round 7: Granny square pattern without the chains in between.  This is when i slip the bottle into the crochet piece, and the following rows are worked around the bottle… which is a pain, let me tell you.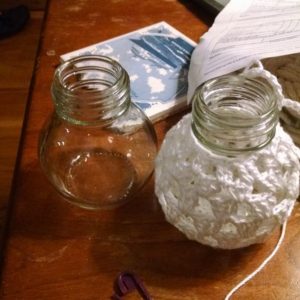 Round 8: Only two double crochets in each of the spaces between the groups.
Round 9: a single crochet in each of the spaces between the clusters.
And then finally a chain to hang by: 60 chain stitches for the bottom two hanging, 100 chain stitches for the top one to hang off the railing.  Each of these little things takes me about 45 minutes – so they're quite satisfying!
I decided that it was a good idea to only hang three in a row, since I don't want them to hang too low… and I was concerned about how much weight a single row of chain stitches could take.  I mean, each of the jars doesn't weigh that much… but I didn't want to push my luck.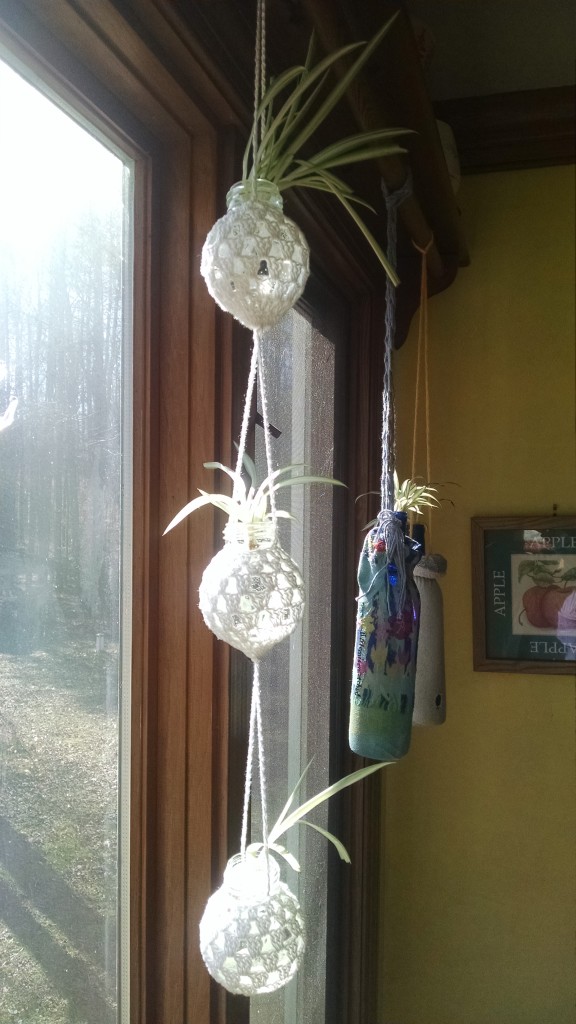 This is the final result – I love the way the sun streams through the stitches.  You can see in the background the original prototype of wine bottles in socks. The wine bottles in socks were nixed because the wine bottle with the water in it is quite heavy, and I'm not sure I want those hanging there long term.  I suppose I could have crocheted around a wine bottle, but that's a lot of crocheting.