I've been checking Ravelry and Interweave's Crochet website for the last two weeks, waiting for the most recent issue of Interweave Crochet to come out.  And now, I'm pleased to announce that Interweave Crochet Winter 2016 is on the shelves (or will be in the next few days), and available to purchase.  In this issue is my design, Boston Ivy.  Boston Ivy is a design that's near and dear to my heart, as it started out as a request for a sweater from my brother, Matthew.
Boston Ivy was originally pitched as an idea based off of my brother, Matthew, and his descriptors for a perfect sweater for him.
He wanted it to be warm.  Not necessarily sweater warm, but more like rugged sweater/jacket to wear outside.  Decoration and cables should be kept to a minimum.  It had to had to have a collar that would go around his neck, and it had to be something he could move and be active in.
At the same time I'd been playing around with a crochet or knitting technique involving using long strips of fabric.  I'd braid the fabric, and then pick up stitches on either side of the braid, making it look like a particularly interesting cable.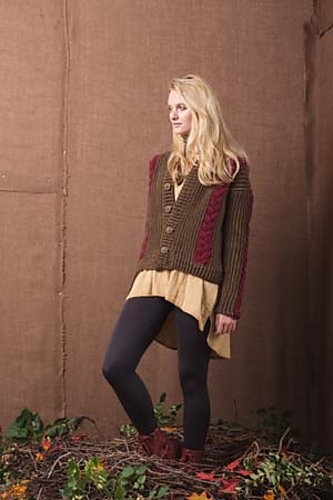 While I'd seen the technique done, a little, in crochet lacework, I'd never seen it done on larger pieces.  I also hadn't seen it done all that much.
I thought this was a great pity that I needed to remedy.
I began pitching the idea to a variety of magazines, with little interest.  Until Interweave Crochet.
Boston Ivy is a sweater for men and women.  It's sturdy and comfortable, with drop shoulders and a distinctive braided pattern down sleeves and front.
Worked in single crochet thru the back loop, it creates a ribbing that's warm and stretchy.
And I love it.