Jennifer Raymond is based in Ashland, VA.  In the DC area she teaches at Fibre Space, Woolwinders, and runs summer camps at Montgomery County College.
Regionally she she teaches up and down the East Coast at Fiber Festivals in the Spring and Fall.  Her classes feature a high energy style and her ready sense of humor.
Her teaching style includes handouts, broken down instructions and abundant interactive elements including pre-made swatches, drawings and interactive demos.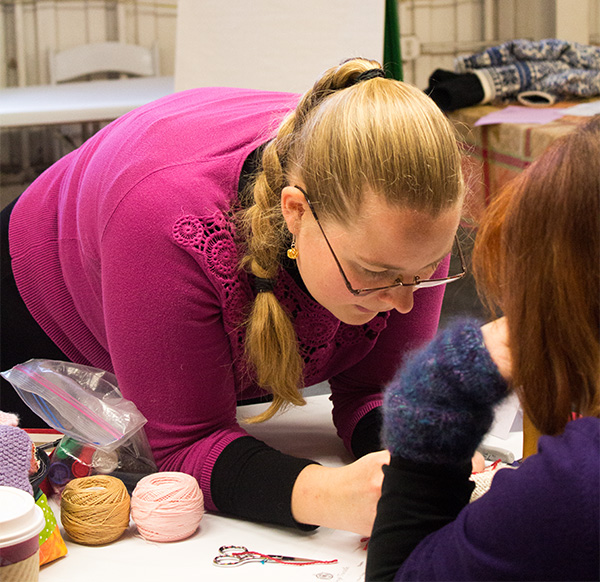 Interested in having me teach?  I offer a variety of classes for small and large groups.  For more information about my rates and availability, contact me.
Read below for some of my most popular classes and descriptions.
Ravelry 101: A great introductory class into the most popular Knitting and Crochet website, Ravelry.
Duct Tape Dress Forms: A fun class creating your own custom fitted dress form.
Stitching and Style: this class explores how your style fits what you want to stitch.
Techniques: A selection of short 1-hr classes on various knitting and crochet techniques, as requested.
Finish This: A foundational class on seaming, weaving in ends and blocking – great for knitters and crocheters alike.
Helix Crochet: A rarely-explored crocheting technique that creates distinctive swirls!
Foundation Stitches Plaited Hat: Using the pattern Plaited Hat, this class teaches students how to work foundation crochet. Foundation crochet is a great alternative to the chain!
Reading Crochet Charts and Patterns: A must-take class, students explore how to read crochet charts, and how to read crochet patterns.
Crochet Edgings: Learn how to spruce up your garments and projects by working cute crochet edgings.
Crochet With Beads: Using a Tinking Turtle original pattern, learn the three different ways to add beads to your crochet project!
Hairpin Lace: Learn how easy this distinctive lace technique is, in one of several different classes, making various projects to learn hairpin lace. Even beginners can learn this stunning technique.
Hairpin Lace Scarf in a Day: A fun riff on the Hairpin Lace class, this workshop enables students to learn and create a hairpin lace scarf. You'll be well on your way to finished by the time this class ends!
Broomstick Lace Workshop: Another approachable lace technique to beginners, learn how to work broomstick with one of several projects.
Tunisian Crochet Workshop: Tunisian is making a comeback. Talk to me about several different classes I have surrounding this technique. Make a shawl, scarf, mitts or an adorable stuffed animal.
Tunisian Crochet Cat: Based around the pattern by the same name, make a cute and fluffy crochet softie while learning the basics of Tunisian knit stitch.
Crochet Socks: Socks aren't only for knitters! A great next-step project for beginning crocheters, this class teaches students how to work short rows, crochet through the back loop, and a variety of other techniques.
Darn Those Knits: Learn to repair your knits with a variety of techniques.
Oops!: The essential class for learning to fix your knitting mistakes.
Helix Knitting: A nifty striping technique that creates no joggs!
Totoro Socks: Based around the pattern of the same name, this is a great beginner sock with a little bit of visual interest. Perfect for variegated yarns.
Stranded Knitting & Steeking: A two part class to learn how to work stranded knitting and steeking.
Colorwork Explained: A great technique based class around various types of colorwork.
Stripes Three Ways: based around a Tinking Turtle Classic, stripes three ways teaches three ways of using two colors to create a variety of patterns. This pattern comes with a unique twist: no two cowls turn out the same!
Reading Knit Charts and Patterns: Learn the basics of charted patterns and demystify the components to a knitting pattern. A great class for beginners looking to expand their skills.
Entrelac: Explore entrelac with a variety of different patterns.
Knitting with Beads: A great introduction to using beads in knitting.
"[I] especially appreciate Jennifer's use of real life experiences, offering alternative workarounds, tips, etc. Great presentation skills and time management; examples are so relevant!" – DV (Blocking, Woolwinders)
Jennifer was very patient & encouraging so I was relaxed and able to learn. She really individualized for us, she's a great instructor!" – ND (Crochet with Beads, Fibre Space)
I really appreciated the [Jen's] enthusiasm and patience in explaining and re-explaining things and showing me how to find the stitches. I appreciated how open and responsive she was to my questions, even if they were elementary."- BV (Finishing, Fibre Space)
You made something that initially looked fiddley and complicated easy to do once I got the hang of it – thank you! The class was a lot of fun and I learned a lot. I loved your enthusiasm for the craft and would be happy to take another class with you." – KM (Hairpin Lace, Fibre Space)
[It was] great having the homework beforehand. I truly enjoyed this class! Jen was very relaxed and extremely knowledgeable; I enjoyed learning even things not in the official curriculum." – KA (Heels, Heels, Heels, Carolina Fibre Festival)
I liked the mix of class and individual instruction, this let people move at their own pace and provided additional help to those who needed it while not holding up speedier learners." – SW (Tunisian Crochet, Fibre Space)