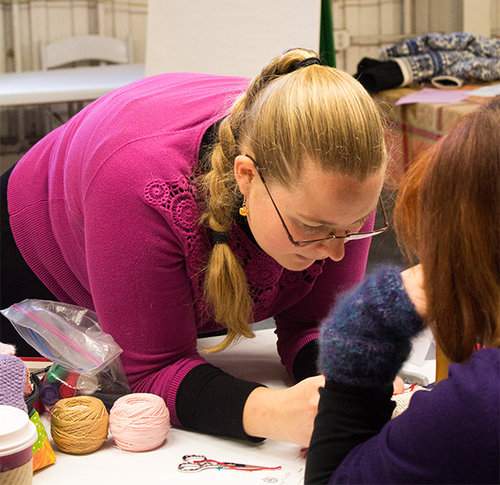 I've talked a little bit about my new partnership with Dances With Wool, a yarn store just outside of Richmond, VA.  I'm super excited to be able to teach at this wonderful, vibrant new store.  It's been a while since I've been able to teach weekly classes, and to develop many of the relationships that I loved when I taught at Woolwinders.
This week we're running a sale on a particular type of class – our inaugural Stitch Adventure class.  What is Stitch Adventure?  It's a class that gives you the benefits of a private lesson – flexibility and ability to cover a variety of topics, with the community aspect of a class.
Stitch Adventure classes can be a great way to tackle a new project that you need a little help on.  If you want to be held accountable to finishing a project up, we can do that.  And if you need help picking a project and finding the right yarn, the instructor is right there for you.  Each class you can bring in a new project – it doesn't matter if it is knitting or crochet, since I can help you with both!
Right now the Stitch Adventure class is discounted 25% off – so sign up before we start on February 1st.  The class with run Wednesdays, Feb 1, 8, 15, 22  7-8 PM.
I'll see you there!