You may remember that over the summer, I went to Interweave in Fort Collins, CO to film four classes. This was part of Interweave's Online Learning video program.  The first one, based off of Stained Glass Rug, was released a couple of months ago.  The others, I'm happy to report, have just come out!  Let me tell you about them!
---
Short Rows in Crochet: Learn Shaping and Texture Techniques for a Great Fit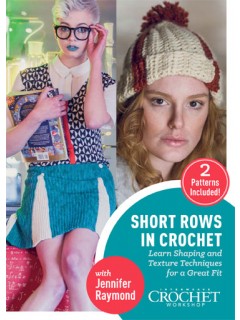 This class is based on a method of working short rows that I uninvented.  I've been using this technique for a while now, as I love the texture and look it gives crochet fabric.  I also love how shaping can be achieved to create projects that imitate ribbing in knitting, or allow you to play with color.
This class has two free patterns that come with the download or video: Riverbend Skirt and Ski Slope Hat.
In addition to teaching you about short rows, this class also has a great tutorial about using the mattress stitch to seam together crochet stitches.  I think you'll love it.
You can purchase the class here, for $19.99.
---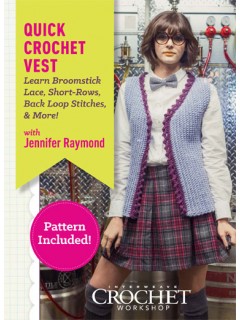 Quick Crochet Vest: Learn Broomstick Lace, Short-Rows, Back Loop Stitches & More
I love my Pattern Crossed Arrow Vest, and I think it's the perfect project for beginners looking to challenge themselves!  Going into the class, the only skills you need to know are how to chain and single crochet.  I take you through the rest.
What I love about this pattern is how, with very little shaping, you create a very flattering vest that works as a great layer piece.  And the best part is, with a bulkier weight yarn, this project just flies by.  With the video you get a free copy of Crossed Arrow, plus my instruction as I walk you through each of the steps to complete this project.
And if you've never tried broomstick, this is a great project to start on.  You'll get the hang of it in no time.
You can purchase the class here, for $19.99.
---
Crochet Barber Pole Cowl: Stranded Colorwork Techniques and More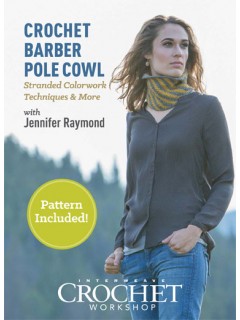 My Barber Pole Cowl has been featured in several of my classes, and I'm now glad to bring it to video with Interweave.  Like Crossed Arrow, this is a pattern that's completely accessible to beginners: if you can single crochet and chain, I can teach you how to make this project!
With a lot of color options, this project is always popular around fall – a perfect pattern for working up in school or team colors, just as the air is getting nippy.
Here, I take you through learning how to crochet through the back loop (can you tell it's one of my favorite techniques?) and also how to work stranded crochet – which is different than tapestry crochet!  Stranded crochet creates a fabric that is warmer (because of the two layers of yarn) and much stretchier than tapestry crochet.  It's a fun and helpful skill to have in your arsenal.  In the process of learning this technique, you also learn how to change colors in crochet without making a jog.
If you like the pattern and love my classes, I think you'll get a lot from this one.  You can purchase the class here, for $19.99.
---
Got questions about the videos?  I'd love to answer them!  And if you have bought the videos, how did you like them?