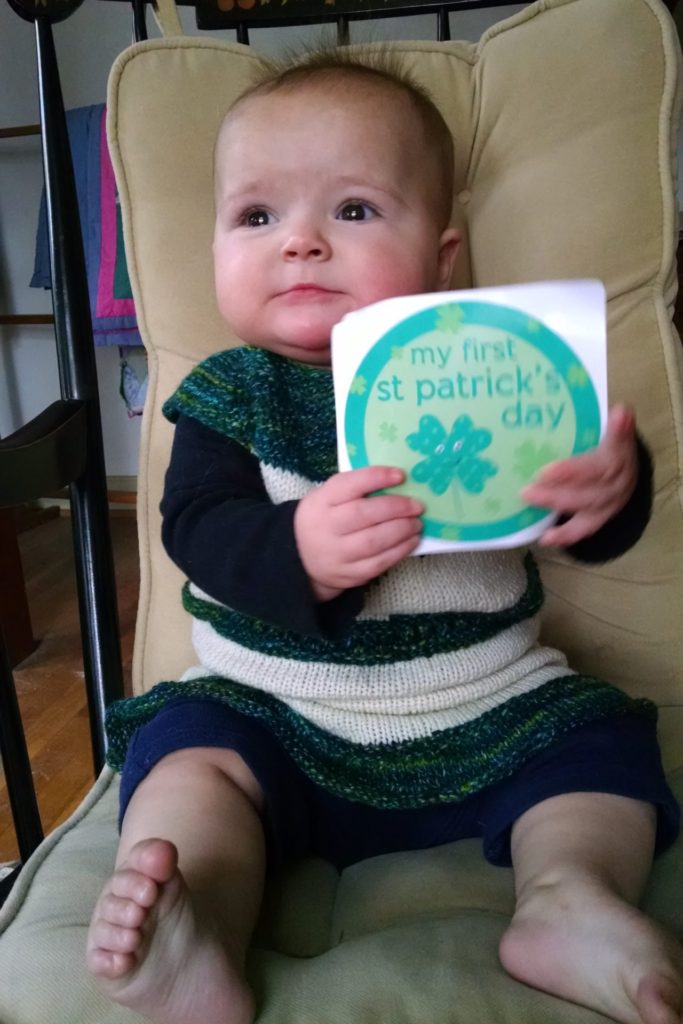 Nearly a year ago, in preparation for Little Turtle's arrival, I made a dress.  Based off of my Rosemary and Bay pattern, this version was for my own child,much anticipated at that point.  I made the dress with a Shamrock and a bit of a St. Patrick's day flair, since part of my family is Boston Irish, and I love the green shamrock motif.  It seemed lucky to make a dress for my future daughter with a shamrock on it.  Last week I got to put her in it, and I couldn't be more pleased with the fit.
First of all, it's taken me nearly 10 months to realize if I kept the sticker on the paper, I could get Rebecca to hold it in a way that looks like she is holding up a sign… doh!
But let me get back to the dress!
I've written about this dress before, HERE.  But I didn't share the details.  The greenish yarn is from Mountain Colors, and is their Twizzle.  I'd originally gotten enough to make myself a vest, but then decided instead to use it to make a slouchy hat (which Michael then washed and accidentally felted so…).  This is made from some of the scraps.  The yoke, hem and waistband area ll made in Mountain Colors Twizzle.  The body is knit in cream, and is from Willow.  It's Willow Yarns Attire Light.  This yarn had some faults in it, so there were more ends to weave in than usual.
When I made the dress, I accidentally reversed the directions halfway through, so the "seam" is smack dab in the middle of the dress, underneath the shamrock.  I'm not too pleased with it, but I'm not going to rip it all out so… I doubt anyone really notices when it is on Rebecca.