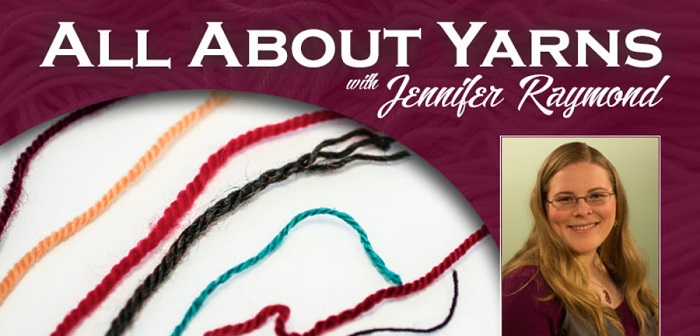 If you follow my blog, you know that one of my favorite classes to teach is Yarns 101.  Yarns 101 is normally a 3-hour class on why yarns behave the way they do: why some yarn substitutions work, why your alpaca sweater is super saggy, and how we can make more informed decisions about pairing yarns with projects.  I love teaching the class, and often one of the responses I get back on my evals is… "When will you teach a Yarns 201?"
So many people enjoy the class, and would love to delve even further into the material.
I've been thinking for a while about how to go about doing that, and in the spring I pitched a class to Interweave that was my answer.
All About Yarns is an online seminar I'll be teaching with Interweave's online learning platform, Craft University.  From October 3rd to October 21st, we'll explore and learn the different factors that influence how yarn behaves: ply, weight & fiber.
How does this differ from Yarns 101?  Yarns 101 is 3 hours.  All About Yarns is 3 weeks.  We'll be able to do things I wouldn't be able to do in a workshop.  There will be further learning assignments, swatching and sampling, and the creating of yarn cards.
Take a look at some of the topics we'll cover:
How to determine the weight and size of your yarn.
Discover how ply and yarn weight influence the final presentation of your colorwork or lace.
How to look at yarns to determine which ones is suited for which project.
Determine which yarns will be suited for high-wear items, and which yarns would be better for next-to-skin wearing.
Understand how fibers in yarns influence the final look, drape and sturdiness of your garment.
How to figure out what your "mystery yarns" are made of, and how best to use them in your projects.
I'd love to have you.  If you're interested in the course, you can sign up for it here.  Come join me!