It's been a while since I've done a post on a repair project.  So today I've got a post walking you through my thought process as I reknit an unraveled section of the blanket.  I thought this Hobbyhorse Blanket repair project was a good one to talk about my process and how I go about tackling a big repair.
This is going to be a very image-heavy post, so be forewarned.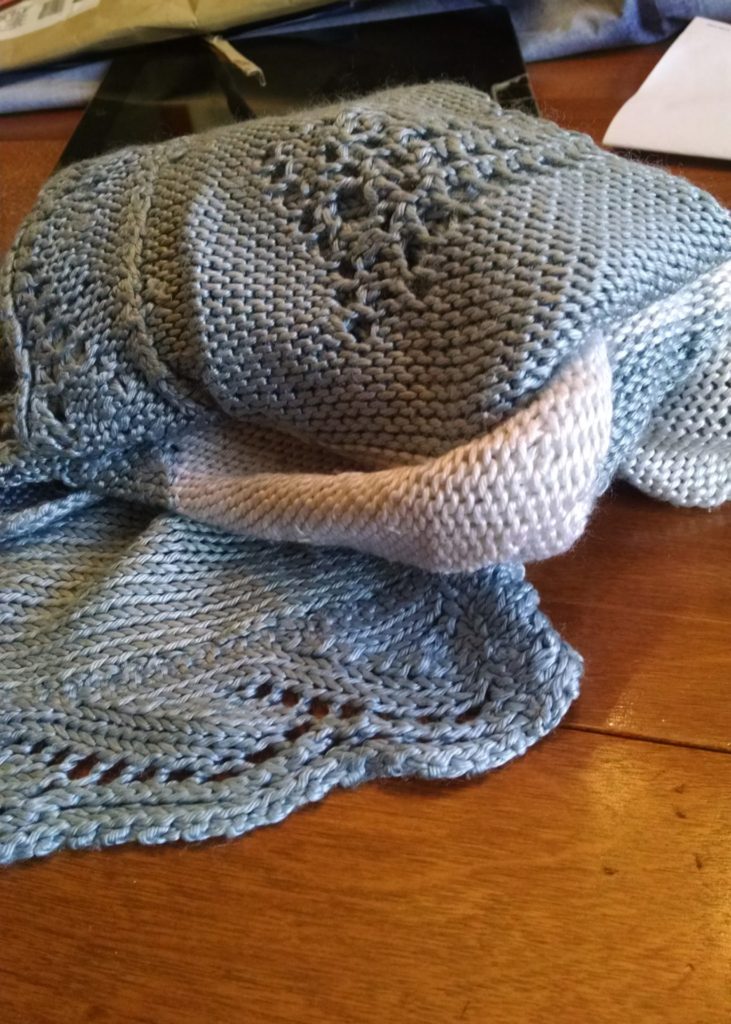 This is the blanket right out of the box it was mailed in.  The piece looks to be a cotton and rayon blend?  Not quite sure, and I'm not sure I want to do a burn test on it.  But it's got a drapey quality, and it is able to be machine washed.  Looking at the piece I was immediately struck by the construction: lovely, lovely edging, and very unique and intricate lace hobbyhorse worked on each of the four corner panels (it's a 3×3 panel blanket).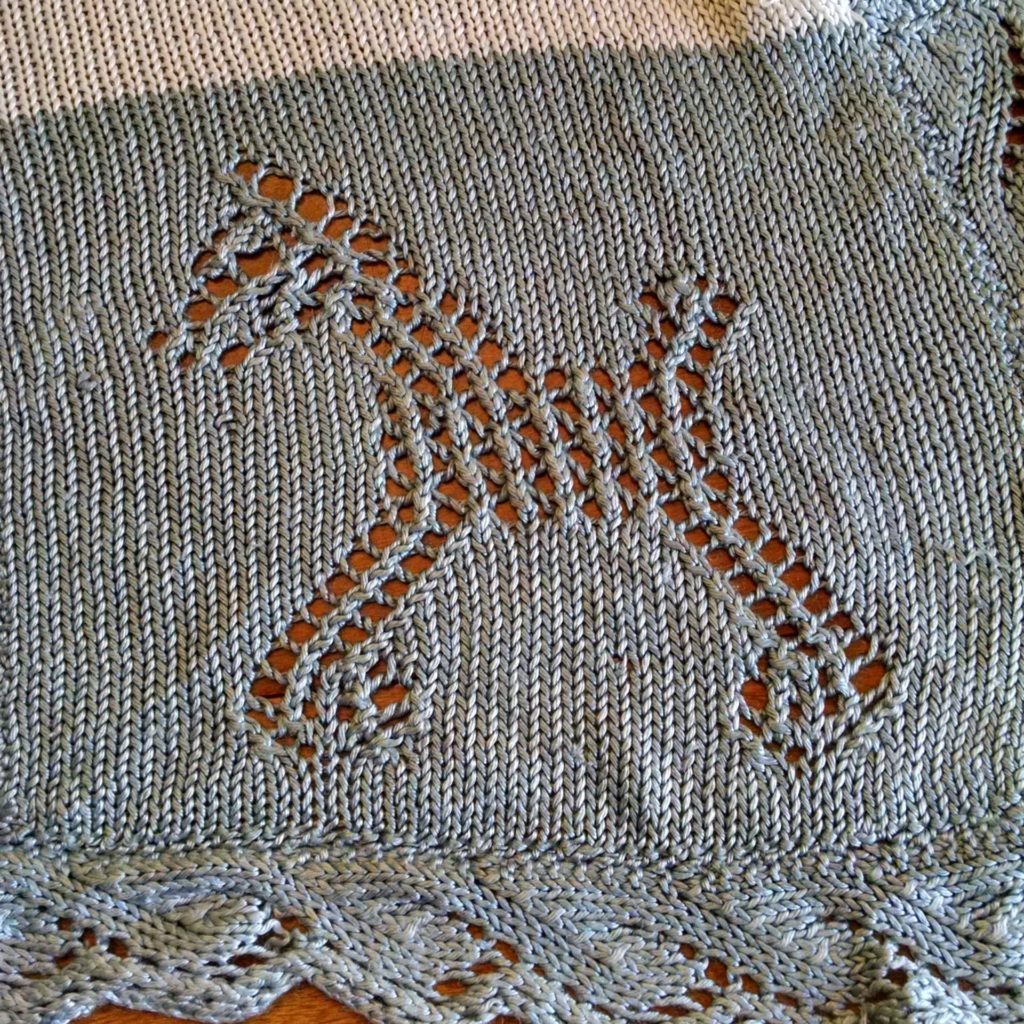 For reference, this is a hobbyhorse, looking how it's supposed to look.  I'm actually assuming it's supposed to be a hobbyhorse (based purely on the fact that it's a crib blanket), I suppose it could also be a dog.  I think it's a Barbra Walker lace pattern.  I'm actually not quite sure.  Now I'm going to have to go look it up. Anyone looking at this know the pattern? (I'll update if I get a response)[Update: it IS a hobbyhorse, and WAS a Barbra Walker pattern. Ha!  I knew I'd seen it somewhere. It's in Barbara's Third Treasury of Knitting Designs pages 178 and 179].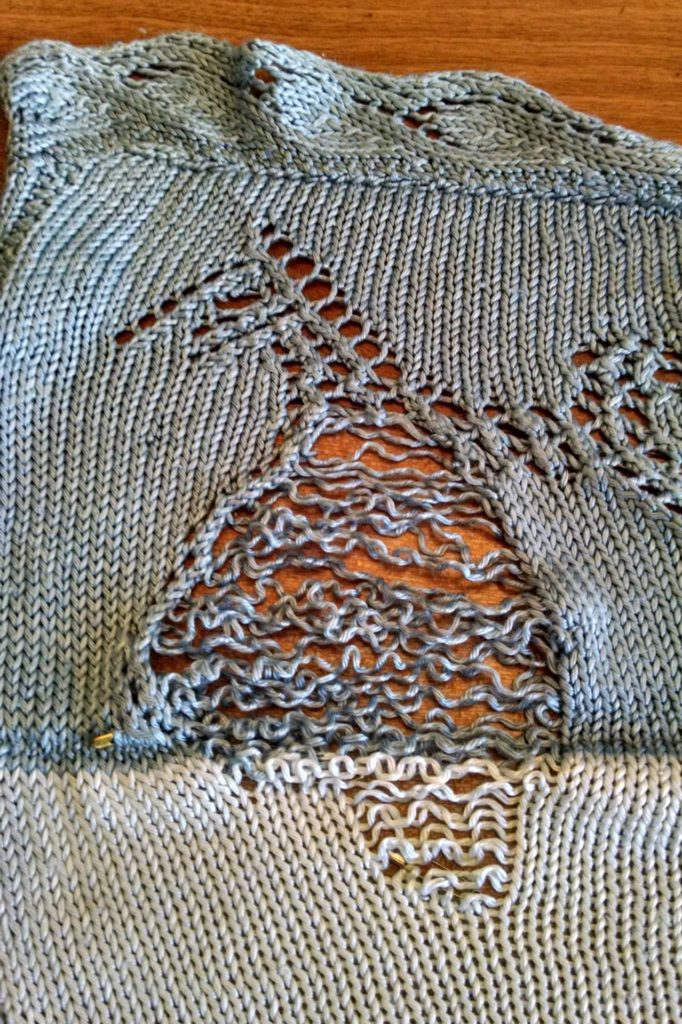 This is the repair I need to make right.  We've got lots and lots of dropped stitches, and it looks like two different pulls – one right above the cream, and one about halfway up, on the righthand side thats a lot smaller.  Right away I'm a little disappointed about the pulls – fixing pulls is so fiddly!  And I didn't notice these on the photos the client took.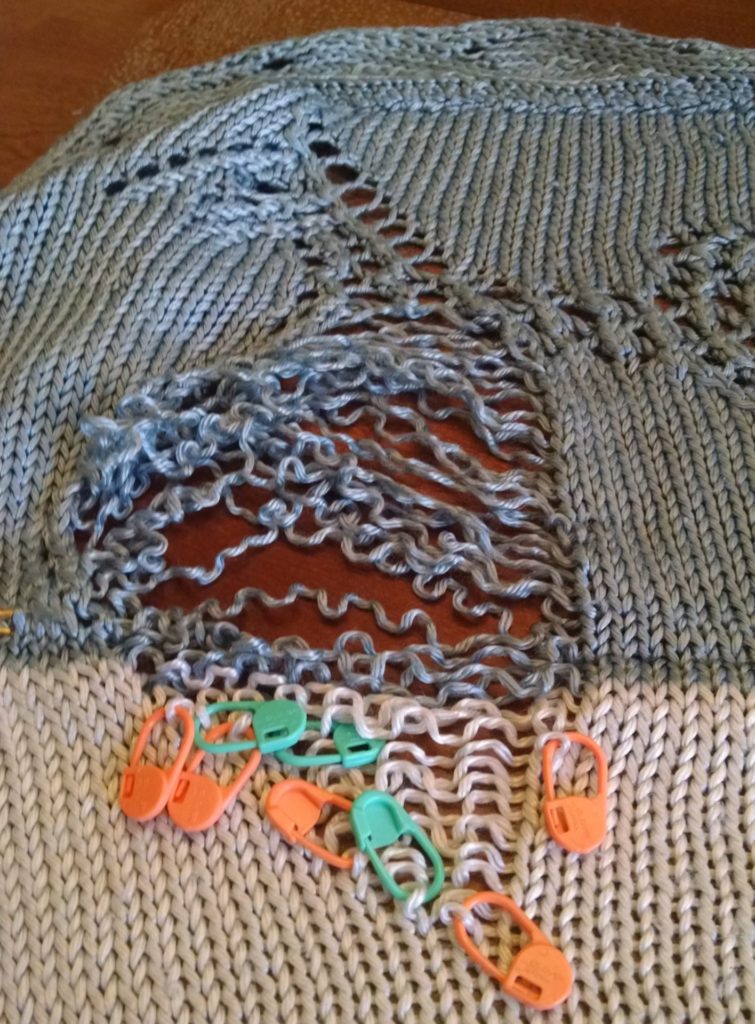 First step is finding all the dropped stitches, each one captured with its own stitch marker.  At first I thought it was eight dropped stitches, but after taking this picture I found a 9th one on the left-hand side, caught by the remaining safety pin.  looking at things, the first thing I want to do is fix everything until all the cream dropped stitches are done.  That's just all easy stockinette, so I take my crochet hook and ladder all those suckers up.  In this case, i love that the blanket has been loved and washed so much, those kinks in the yarn make it really easy to space those stitches out.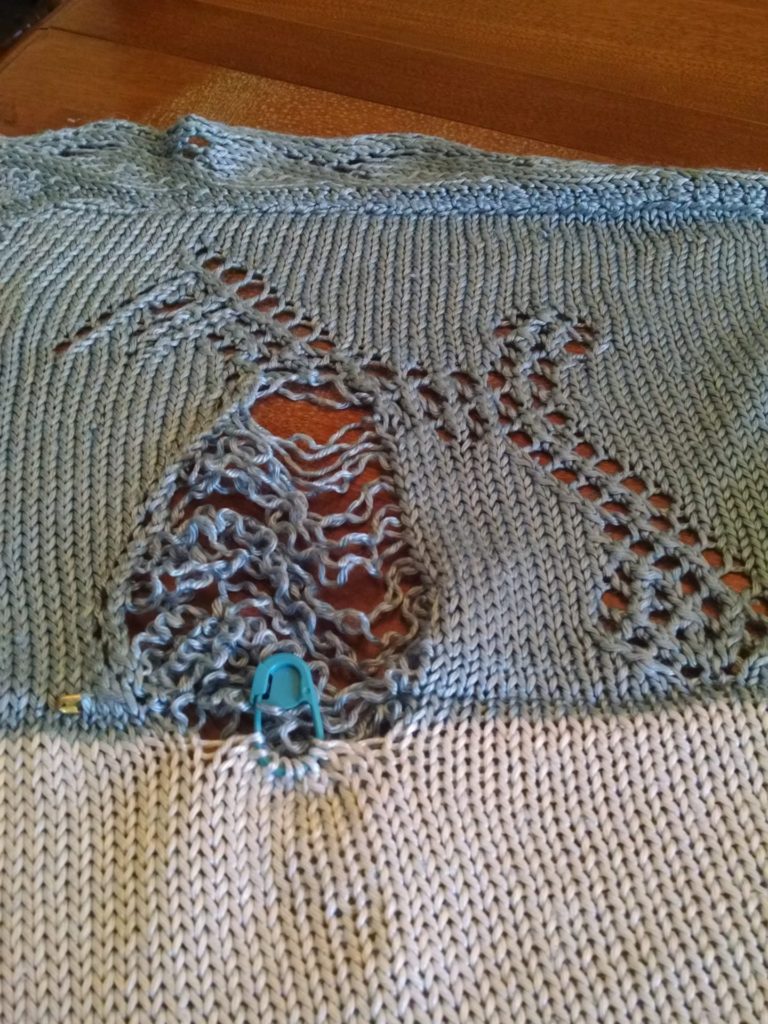 Okay, so we've gotten everything up to the cream, I want to tackle that massive pulled stitch.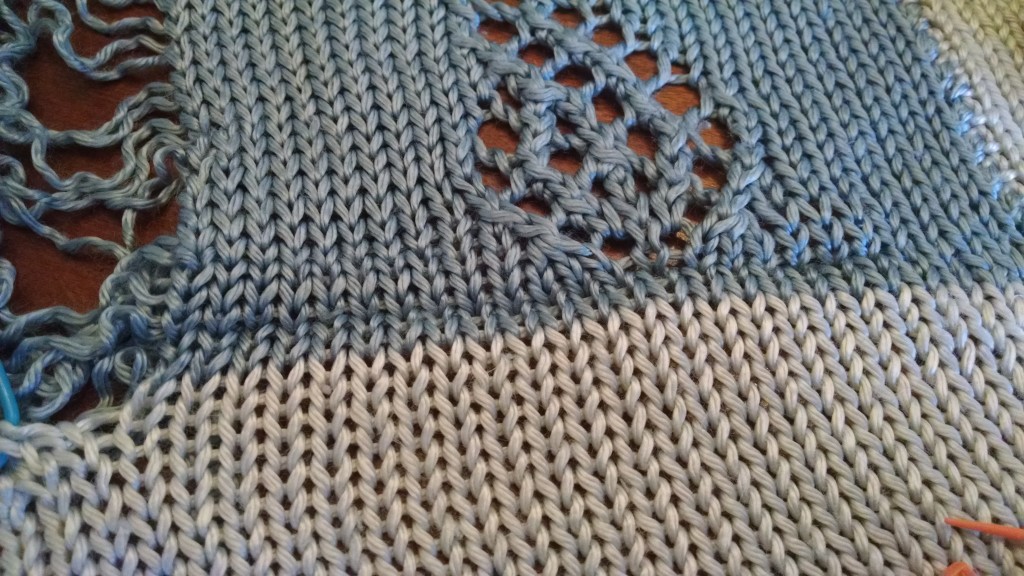 This pull is massive.  Nearly 20 stitches affected on the right.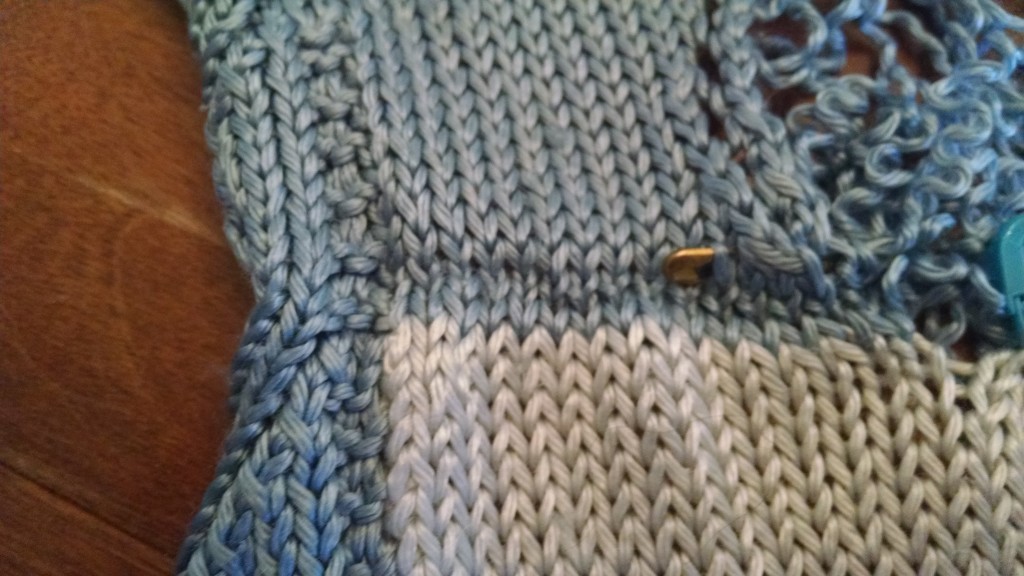 And another 10 stitches to the left.  Fun fun fun.  Well, lets sort through the strings here for the one that's pulled to see what I'm working with.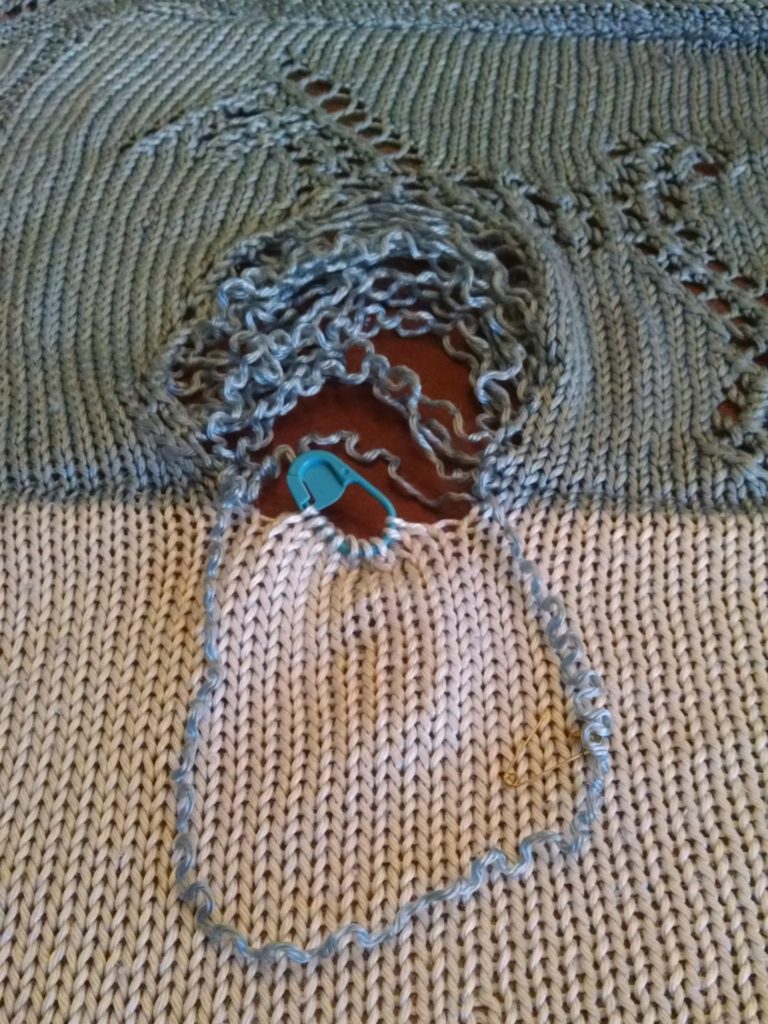 Well now, that's a lot of yarn that isn't where it is supposed to be.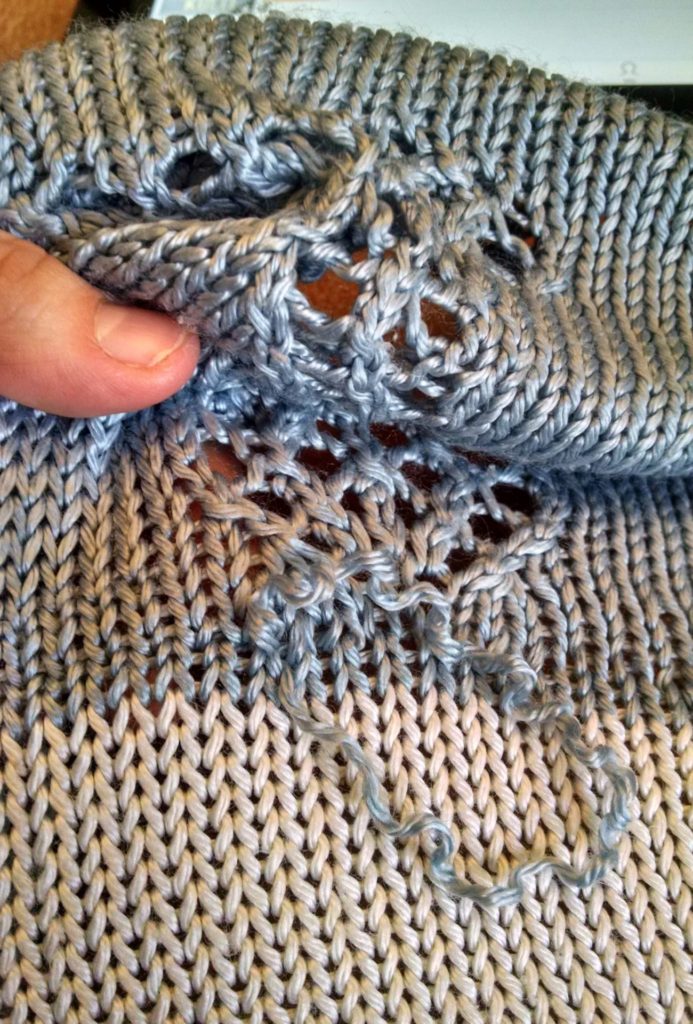 I decided to pull a bunch of the yarn through to where the end of the pull was, and work backwards, redistributing the yarn along. Again, the kinks in the yarn here are helping me, because when I place things right, the kink lines up and settles into the spot it once was in.
… Lots of time later…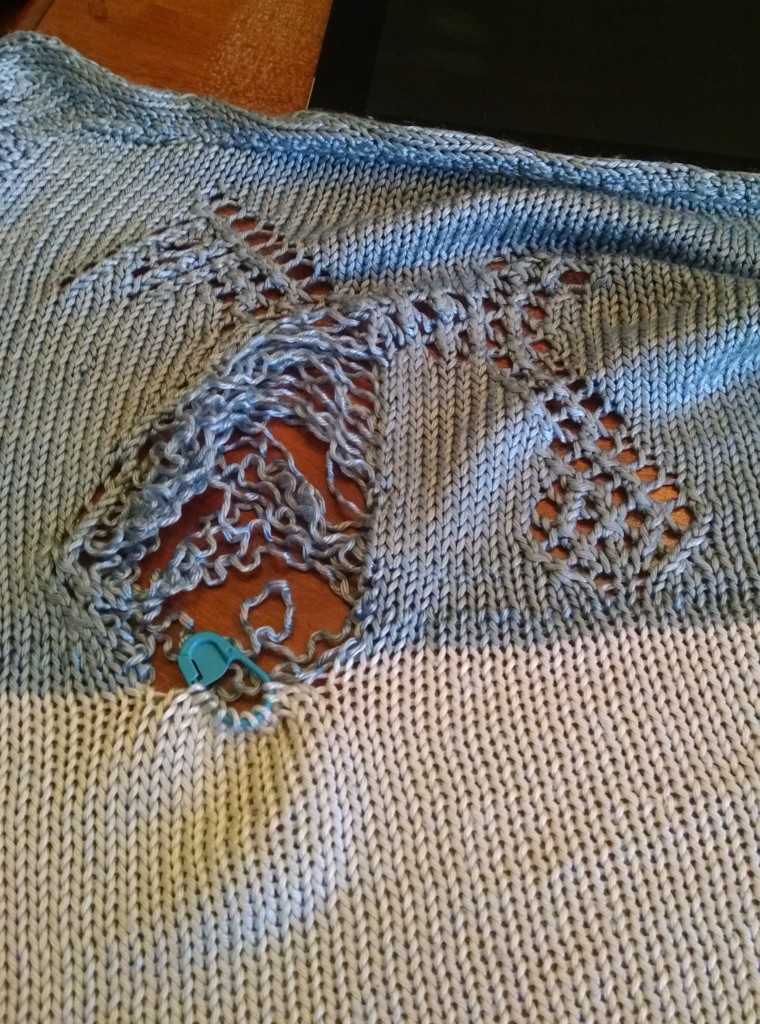 Okay, we've got the yarn redistributed on both sides.  It still looks a little wonky, but that'll even out over time.  Let's start tackling the lace pattern.  One of the good things here is I've got another hobbyhorse to compare to on the blanket, so I'm using that as a template.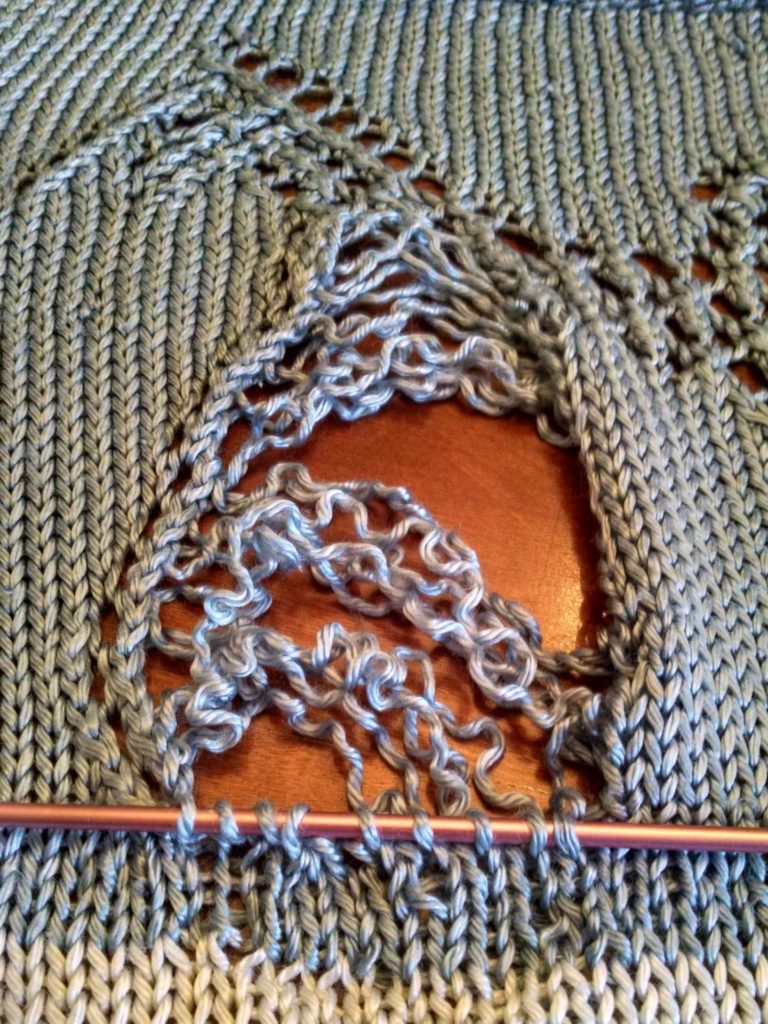 The first five rows were plain stockinette, so so I knitted those up quickly with my needles.  I'm not worrying so much about gauge right now – I'll go back and fuss with things when I'm finished.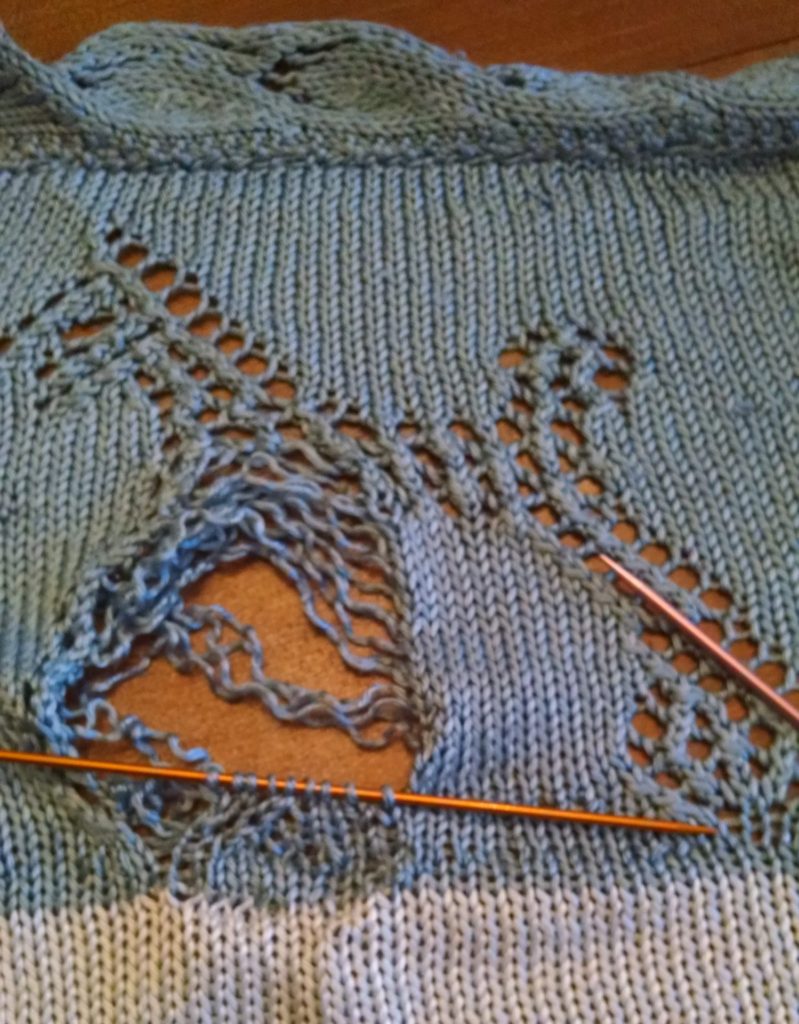 This is where I've stopped – I have to figure out the lace section for the last bit, and I may have made a mistake.  Since I'd been at things for quite a while, I decided to give things a rest while I think through where I want to go next.
Keep tuned, and I'll record the rest of the work on this project.