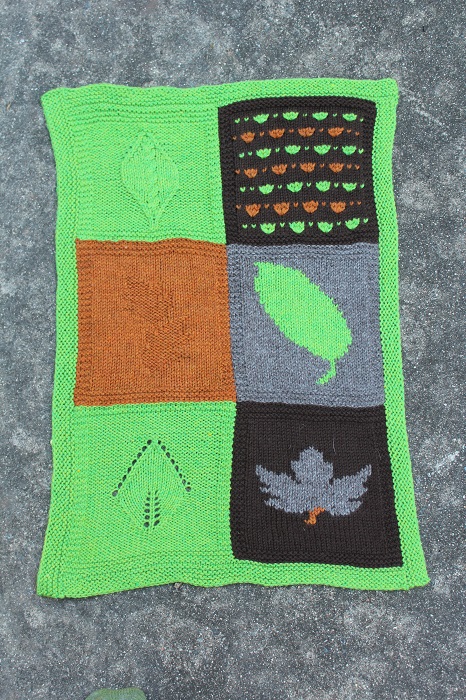 It's always exciting when a new yarn store comes to the area – what yarns are they going to carry?  So it was super exciting when a few months ago Debbie Floyd, the owner of Dances with Wool, got in contact with me.  She was opening a new yarn store in Midlothian, VA.  And she wanted to talk to me about classes.
I'm so excited about this new yarn store to the Richmond VA area, especially as the Knitting Basket is closing.  While I haven't been by the store since they had their opening, what I did see was a store focused on good quality yarn, beautiful patterns, community and classes.
Starting in November I'll be teaching a Skill Building class focused around my pattern, Wild Wood Leaves.  It's a crib blanket with options of three different sizes, and is currently only available if you take the class.  The wonder of this series of classes is you can take the entire series of eight (and get a discount on all of them) or pick and choose which ones you need the most.
Week 1, Nov. 2, 6-7 pm – Reading Patterns, Knits and Purls (middle left panel)
Week 2, Nov. 9, 6-7 pm – Increases, Decreases and Yarn Overs, Beginning Lace (bottom left panel)
Week 3, Nov. 16, 6-7 pm – Color Work With Duplicate Stitch (bottom right panel)
Week 4, Nov. 30, 6-7 pm – Color Work With Intarsia (middle right panel)
Week 5, Dec. 7, 6-7 pm – Beginning Cables (top left panel)
Week 6, Dec. 14, 6-7 pm – Slip Stitches (top right panel)
Week 7, Jan. 4, 6-7 pm – Bringing It All Together with Seaming and Finishing (all)
Week 8, Jan. 11, 6-7 pm – Picking Up Stitches and Borders (all)
You can sign up for the classes here.
I can't wait to begin teaching locally again!  I've missed being able to do it since Rebecca was born, and I'm so pleased to be able to spend time with students while establishing good foundational knitting skills.
You should also check out Dances with Wool!