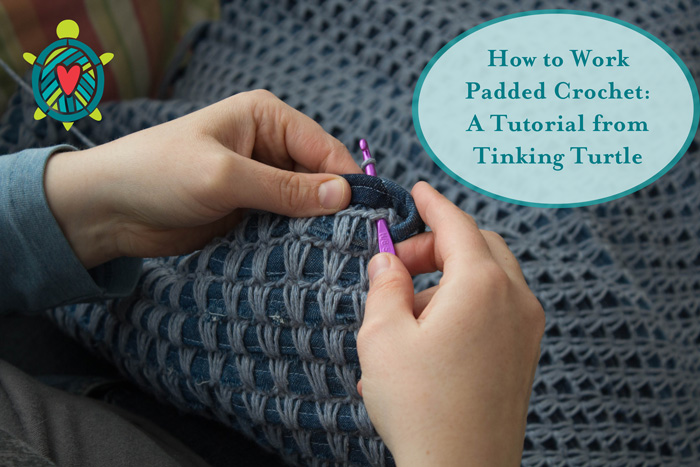 In honor of Rag-ety Rug coming out this week from Crochet World, and my recent post about it coming out, I thought it was appropriate to finally post this tutorial, which I've been saving for quite a while.
What you'll need:
A crochet hook
Some scrap yarn
Rags, upholstery cord, or something else nice and thick but flexible to crochet over.  Bulky yarn would work too.
A bit about padded crochet: this technique originally was used to crochet around thicker yarn to create different motifs.  It gives you a lot of flexibility because you don't have to crochet into the previous row, you can also just crochet around your material.  You see this technique often used in  Irish Crochet.
To begin, work a foundation chain, and work single crochets into the chain.  This can be any width, as we're working a practice swatch.  After you've finished those two rows, you begin by adding in your cord/rag/yarn.  You'll be crocheting around it much like you do when you're burying an end into your crochet work, except this will be much larger.
Begin by holding your cord/rag/yarn above the last row you worked.
In this case, I'm also joining the yarn for this row.  Insert your hook into the last stitch of the previous row, and draw up your yarn.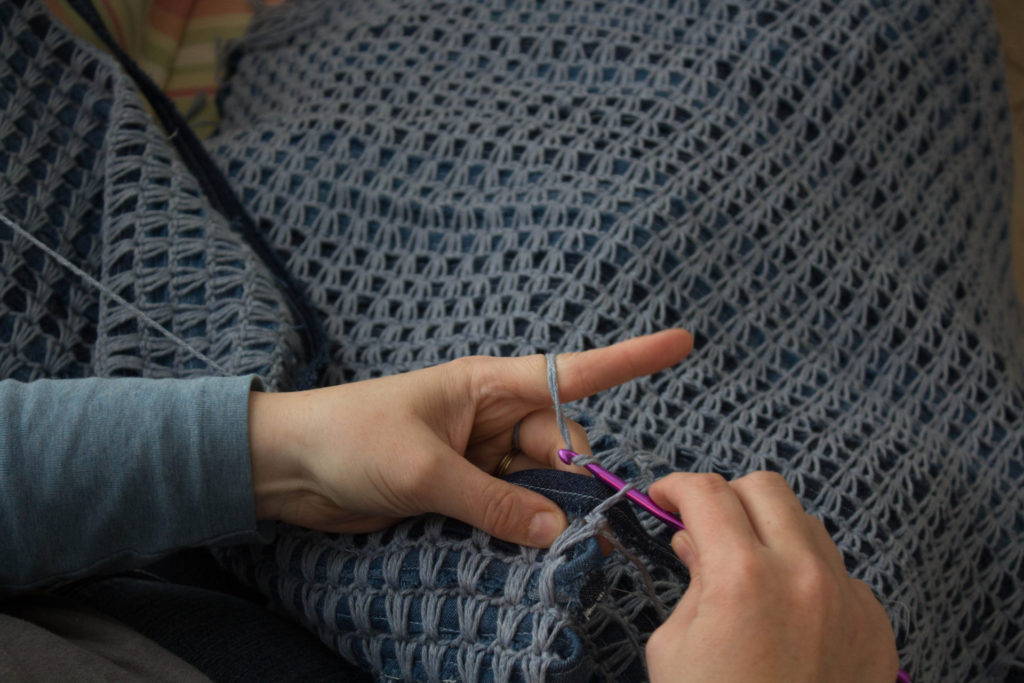 Chain one, securing yarn around the cord/rag/yarn.  I like to hold my tail together with my working yarn for this first stitch, or no other reason than it makes me feel better, and makes me feel like things are more secure.  I've got no proof, though.
Now, begin working your crochet stitches into the stitch of the previous row, working the yarn around the cord/rag/yarn.  In this case, I'm working a variant of the v-stitch.
Some tips:
Make sure you're letting your stitches lie flat.  If you make them tight, they'll bunch up your cord/rag/yarn.
Every once and a while check to make sure that your piece is laying flat.  Because the cord/rag/yarn that you're working over has a tendency to shift around, it can make things pucker, draw tighter or looser.  I like to measure ever few rows.
When you have to add more cord, there's a few ways you can do it.  In my case, I sewed on my rags together, because it was a bit more tidy.  You can also just hold the end of one rag and the beginning of another together.
Make sure if you're using rags they're the same width, so your rug doesn't have a lumpy look, or have irregular rows (unless that's the effect you're going for)!
Have you every worked padded crochet?  How'd it turn out?  What was the project?