I've had a number of people asking me if I've knit a lot of things for Little Turtle, or if I was planning to.  Truth is, other than my Shamrock Dress, there hasn't been much knitting on my behalf for the baby.
I'm fortunate, though, in that I have a community around me of crafty people who do knit and crochet, and have made our future child some lovely gifts.  I thought I'd share a few of them!
The first one has a bit of a story – I'm part of a stitching group that meets in Ashland every Monday night.  They're a great group of ladies, and it's always one of the highlights of my week getting to meet and catch up with them.  On Monday evening I walked into the room, running slightly late, to a big surprise.
There was cake and decorations, and , much to my unexpected joy, was a gift beyond words.  The ladies of the group had made Little Turtle a blanket – squares filled with elephants and bunnies, trains and boats, flowers and butterflies.  It was an amazing show of joy and anticipation and love.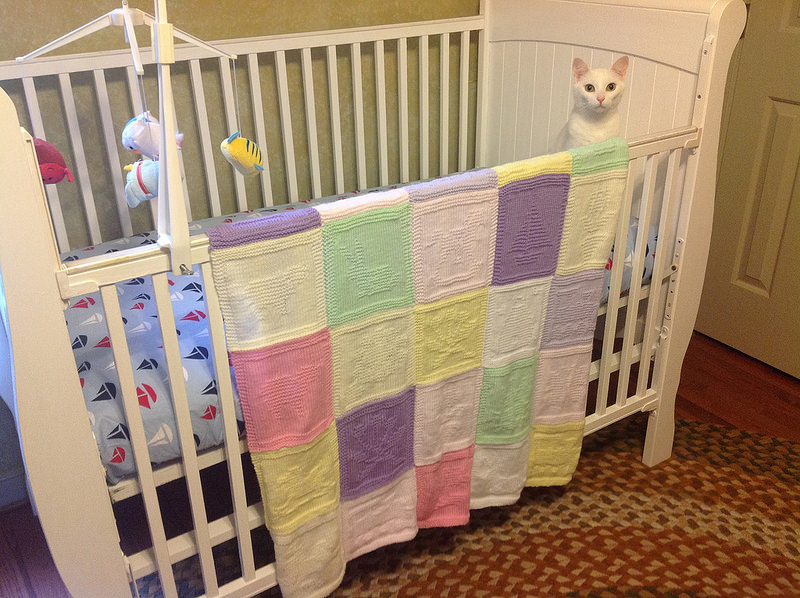 I'm finding that it is more than a little humbling to have someone craft for you.  When someone makes you a blanket or a community makes you an object, I know how much it means.  I know how much time goes into working on something, I know how much thought and work goes into each motion.  The person carries that item around with them for weeks, snatching time between other tasks, in the evening before bed or while waiting in the car.  There's a message that you're worth that time to them – you're worth the effort of setting aside those minutes to make something for you.
I have another friend, who'll I just call L (since I don't have permission to use her full name), who I've known for the last 5 years.  We struggle with some of the same faults in our personalities – we can both sometimes have trouble with boundaries and we've struggled with our weight.  She's a big spinner and knitter, and when we get together it's like we're both 5 years old again.  She also knit a blanket for Little Turtle.
Her blanket is different than the first blanket as night and day.  For one, this is made by one knitter's hands.  It's a wool and cashmere blend, as light as a feather and softer than my cats.  I've picked it up and held it to my face multiple times.  It's knit in fine, fine yarn.  It's also one of the reasons I tell people not to discount garter as being elegant.  Many people associate garter stitch as being more rustic, and perhaps even a little basic.  I can understand why as it's often used in sturdy garments and in baby wear.
But here the lace is as fine as the yarn, subtle and stunning.  The yarn actually shares a name with L's dog, Gracie.  The colors are subtle and more mature.  This blanket isn't in a yarn that's superwash, that's meant to be thrown in the laundry when it has spit-up on it.  This is a christening blanket, that then becomes the nursing blanket you bring to church or synagog.  Later it may become a shawl or a treasured heirloom for the child.  Still, the message is the same: I thought of you and your child.  Here are my prayers and well wishes, my hope for the new life to come.
Again, so humbling.
The next two blankets are also from close friends.
This blanket was made by my workout buddy and altogether closest friend in the Richmond area, Krista.  It's made as a nod to Little Turtle's nickname before we decided on her real name.  Mr. Turtle and I called the babe Kiwi, after one of the fruits she was the size of in the first trimester, and somehow it stuck. (It may well also be because of how many kiwi's I've eaten over the course of this pregnancy).  This is a rough-and-tumble blanket, made from a sturdy knit stitch with a fun little border.  It's cotton, easily washable and it holds up to wear and tear.  This is the blanket for taking outside (grass stains will blend in!) and throwing into the car.  Krista, working with kids, knows the type of blanket needed for an active child, which is what I'm sure Little Turtle will be!
The last one is from my high-school friend Jess, who is also expecting a baby.  Her knit ripple blanket seems like the end of a perfect quintet – this is a blanket meant for snuggling under on cold winter day, the ripples and texture providing extra warmth.  Almost the same size as the blanket from my knitting group, it's knitted in a worsted yarn, so is a little thicker and sturdier – the difference between spring and true winter.  I love the vibrant purples!