Three months into becoming a mama, and I'm just starting to rediscover life outside of our immediate family.  I was talking to a close girlfriend the other day, and I was marveling at how everything changes and nothing changes.  It seems like each day the changes are so gradual that I don't notice a difference, and then I look at pictures from a month or two months ago, and I realize just how far we've come.
The last time I talked about Little Turtle she was 5 weeks old and just growing out of the newborn clothing.  Now she's solidly filling out 3 month old clothing, and a few of the smaller onesies are starting to get tight.  Her head control is pretty good now – she likes to follow people's faces as they move around a room, and her eyes will flick back and forth as she listens to her parents speaking.
She likes to play the "reach and grab" game when you hold a toy in her arm range.  After she grabs things she hasn't quite managed to figure out how to let go, so she'll look pretty confused as she waves her prize around.  Last week she rolled over for the first, second, and third time from belly to back.  She hasn't repeated the feat again.
---
My stitching mojo is slowly starting to come back.  Last month I taught two camps fiberarts camps, each a week long.  As the campers were working on their projects, I began to just work some simple garter stitch.  Didn't do anything with it – just working on a swatch to demonstrate to my students.
Then, I was pulling together classes for Fibre Space this fall, and was looking for a new pattern to teach intarsia.  I found one I liked, bought the pattern, and began working a sample.  And all of a sudden, things came back to me.  Before I knew it, I was motoring away on a second version of the project, and I'm contemplating a third.  It's a simple project that probably works up in about 4-5 hours… perfect for my attention span!  The pattern, titled Totally, his here.
Still, I had no interest in working on anything of my own.
Then, over the weekend we were at the farm. It was one of the first times I had some real downtime.  While both of the grandparents had come and visited before, I was running camps, completing errands I couldn't do with Rebecca, and going to doctor's appointments.  At the farm someone else was holding Rebecca, and I didn't have any work, and I decided I was going to "bang out a baby sweater."  I wasn't going to worry about math, or a pattern, or being able to replicate things.  I just went for it.  I used a shirt that was just a little big on her for a template.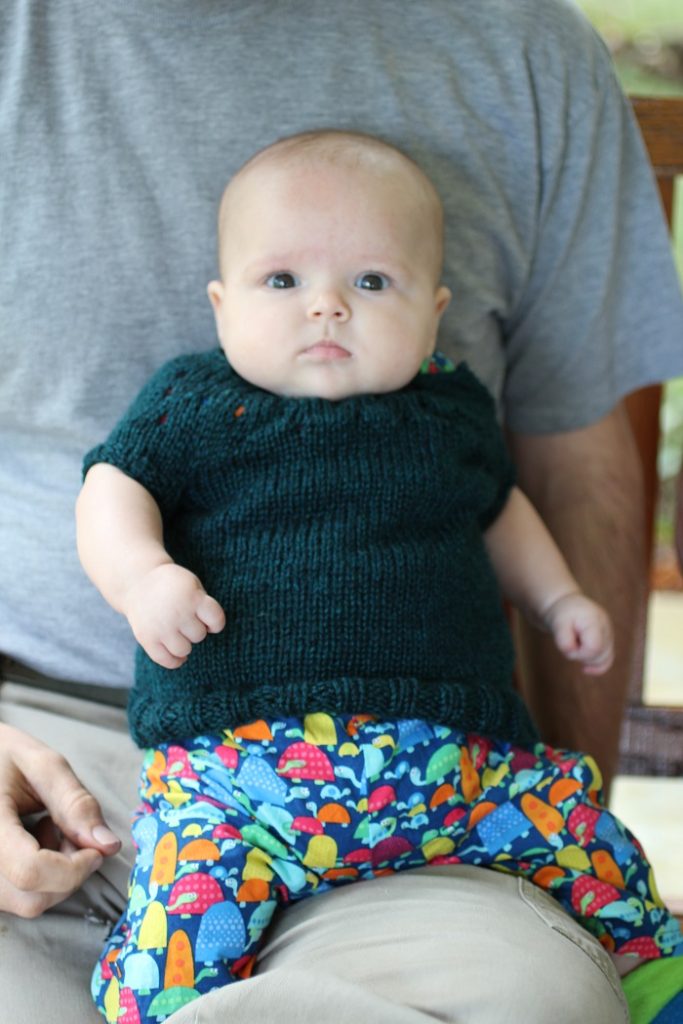 It doesn't have a button yet for the neck.  And I think it'll fit her for all of two weeks (well, maybe a bit more than two weeks, she is wearing it over a shirt and overalls right now).  The sleeves are a smidge snug.  But it was done in just over 24 hours.
It's yoked, with random yarnovers in the yoke to provide shaping.  Short sleeves because I just wanted it done, and I didn't want to calculate sleeve length.
Sometimes you just have to go for things.
Also, see those overalls?  Notice the turtles?  My mama made those, G-ma Turtle.  I think they're amazing.
What have you been just going for lately?